As time has passed since I created this site, I've become a part of several Web Rings:
Note: I've removed the Geocities Ring for the moment. Something in the code made all the ring tables vanish from sight.

Sorry if this causes you any delays in your surfing.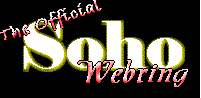 This Official SoHo Ring site owned by Jeff Boman.
[ Previous 5 Sites | Previous | Next | Next 5 Sites | Ra ndom Site | List Sites ]

This Lost in WebSpace site is owned by Email Me">Jeff Boman.

Click for the
[Previous] [Random] [Next Site]
[Skip Next] [Next 5]

Click here for info on how to join WorldWide Homepage Club Ring.