Alyson Court (and Me), PriMedia 1997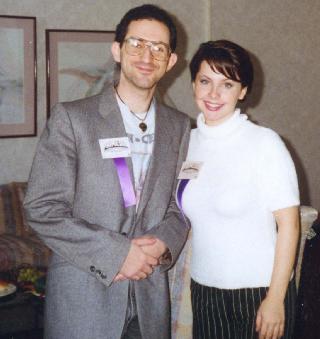 If you've heard Jubilee on the X-Men cartoon, or seen Loonette on The Big Comfy Couch, then you've seen Alyson Court.

She has (so far) been a guest at PriMedia, a media science-fiction convention, in 1995 and 1996.

When this photo was taken in 1996, I was a guest/speaker at the convention - which meant I could eat in the secret Green Room. Which meant I got to spend a little more time with Alyson.

She's really a sweet person, and (this may come back to haunt me some day, but life's too short for shyness) I found myself quite taken with her. That smiling face was used as a photo on another part of this site; now you know why I was smiling.
---
Last Updated: Oct 7, 2001

e-mail comments and suggestions to Jeff (Webmaster)